Future City is raising money for their trip to Washington, DC. On Saturday, February 4 and February 11, they will be hosting a bake sale during the double header basketball games in South Heart. If anyone would like to donate to Future City, they can make the checks payable to South Heart School with Future City in the memo or attach a note saying it is for Future City. Checks can be mailed to the school - PO Box 159, South Heart, ND 58655.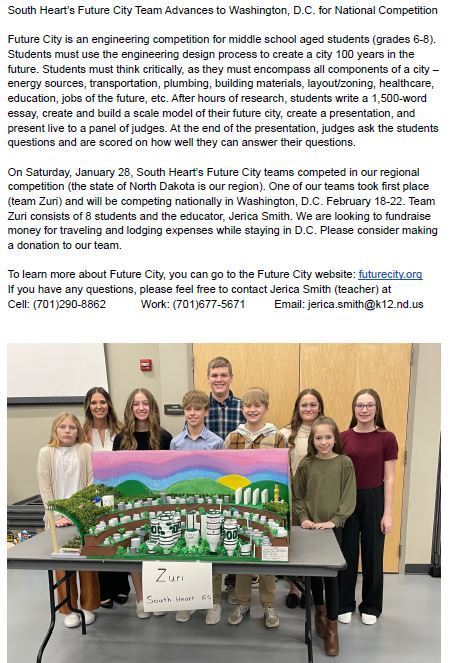 Hello everyone! Due to decreasing visibility and rapidly deteriorating road conditions, South Heart School will be releasing early today at 1:45 pm. Also, girls basketball at Flasher is canceled. All after-school activities are also canceled for today. Thank you and please drive safely. Mr. Dean

12th Grade Honor Roll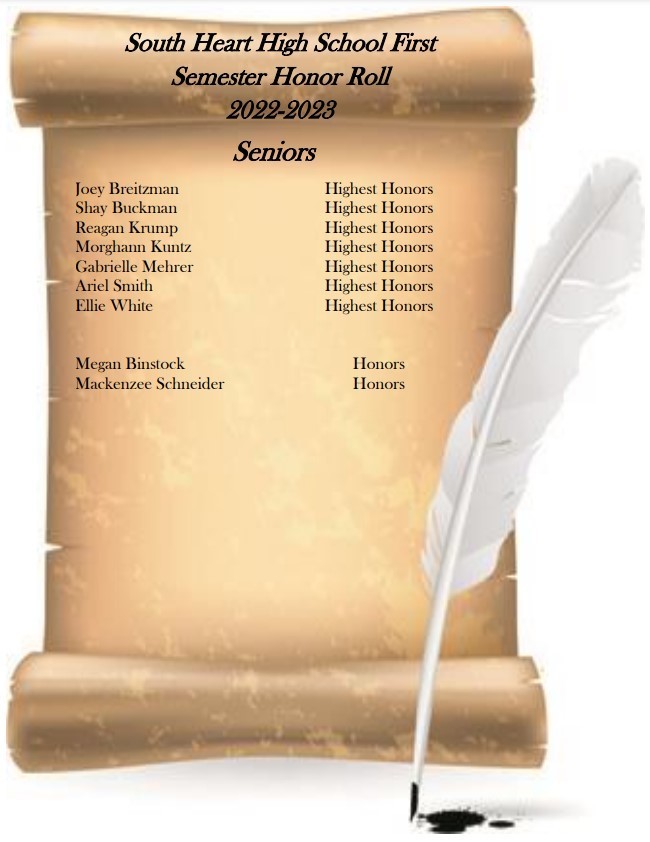 11th Grade Honor Roll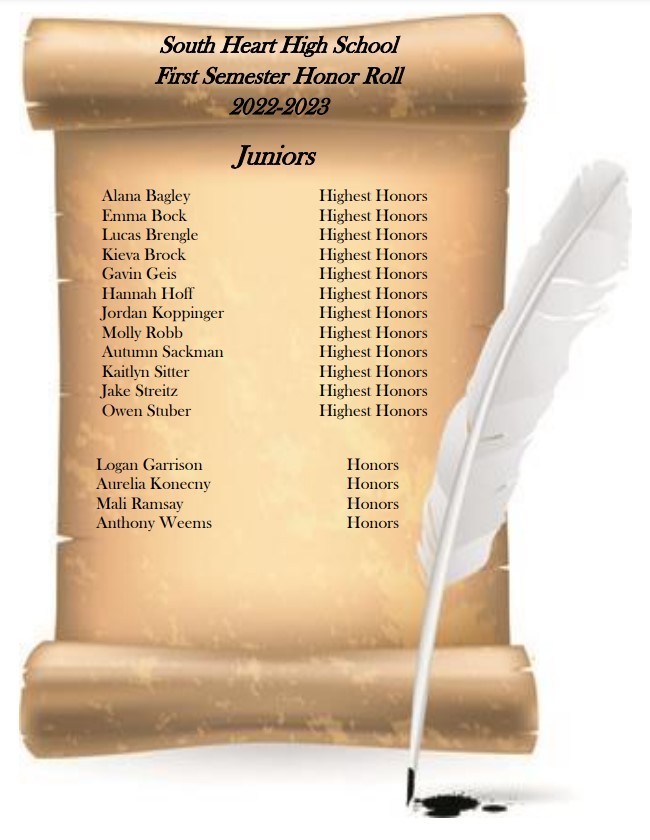 10th Grade Honor Roll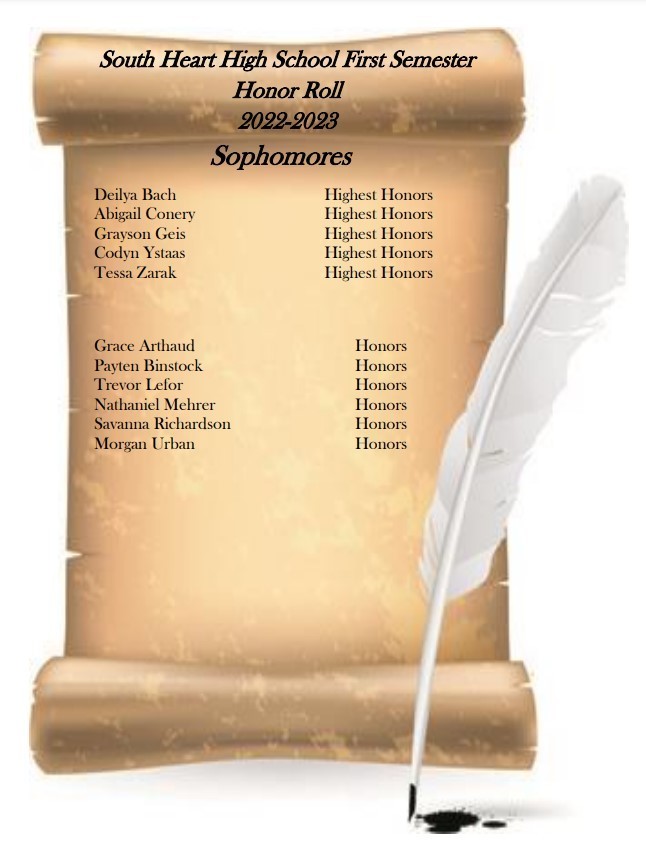 9th Grade Honor Roll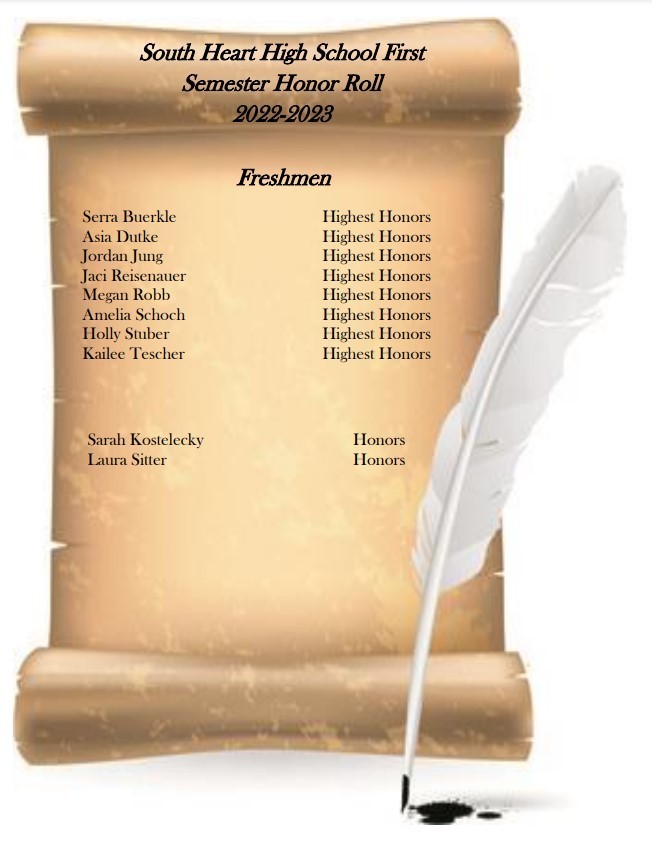 8th Grade Honor Roll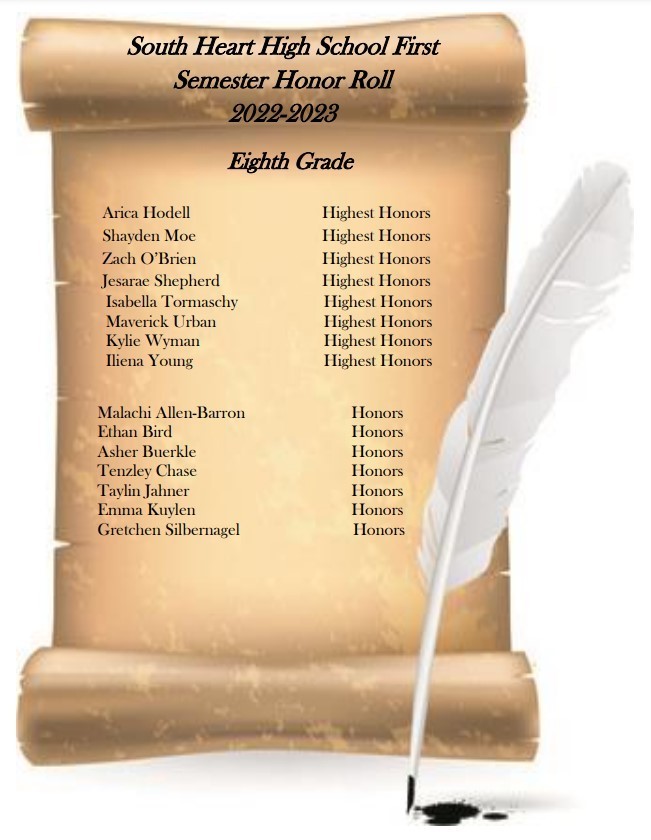 7th Grade Honor Roll

Good evening everyone. As you all know, prior to Christmas break, South Heart School was canceled for 5 days due to snow storms. Last night at the South Heart School Board meeting, the Board decided to make up 4 of these days. Therefore school will be in session on February 20, March 16, March 17, and April 10. At this time, the 5th day will not be made up unless further cancelations occur as this 5th day can be absorbed by the extra time beyond state requirements that we have in our school calendar. Please note that 4 additional days have also been added for pre-school on February 20, March 16, April 6, and April 10. Updated school calendars for both school (k-12) and pre-school can be found on our school website under the "Calendars" tab. Thank you. Mr. Dean

Little Cougars Skills Camp information and registration form.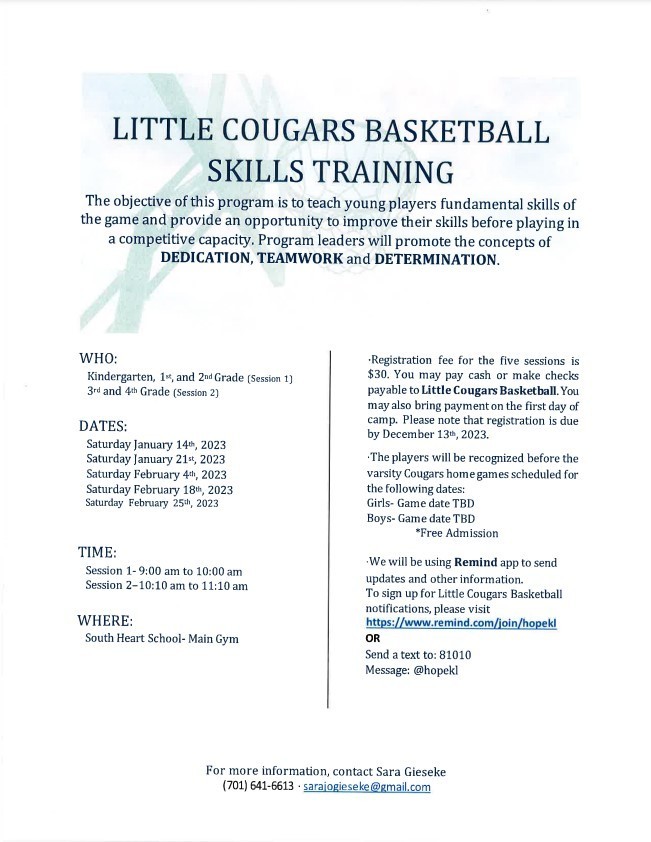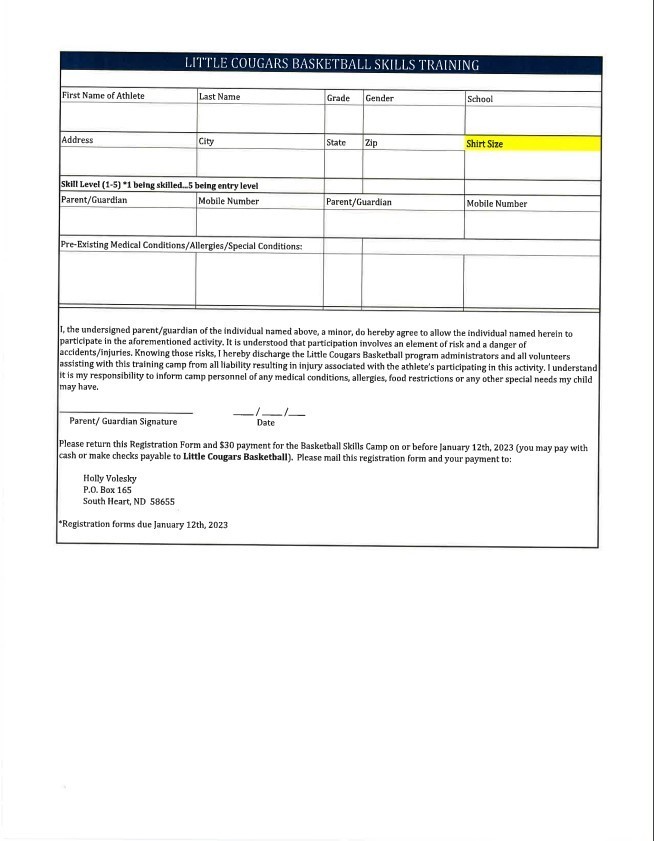 The preschool screening that was originally scheduled for Friday, February 3rd has been changed. The new screening date is now Friday, February 24th.

Good evening everyone and welcome back to school! The elementary music concert that was postponed before Christmas will be held this Thursday, January 5, 2023 beginning at 6:00 pm at South Heart School. Happy New Year! Mr. dean

Good afternoon. South Heart School will be released today at 2:45. South Heart School is also canceled for tomorrow, Thursday Dec 22. Activities are canceled until Monday, December 26. This includes no practices today after school. Thank you and Happy Holidays! See you all again January 3. Mr. Dean

Please see the flyer for Dickinson Wrestling Club information.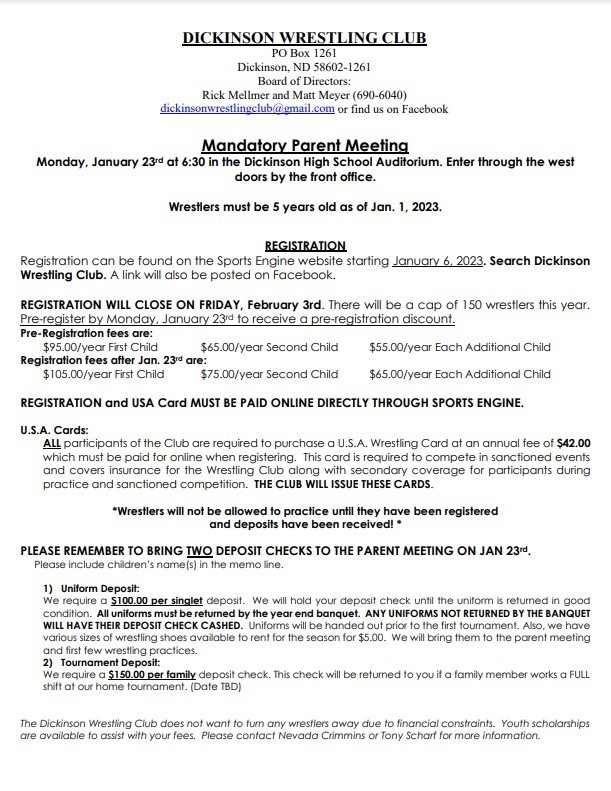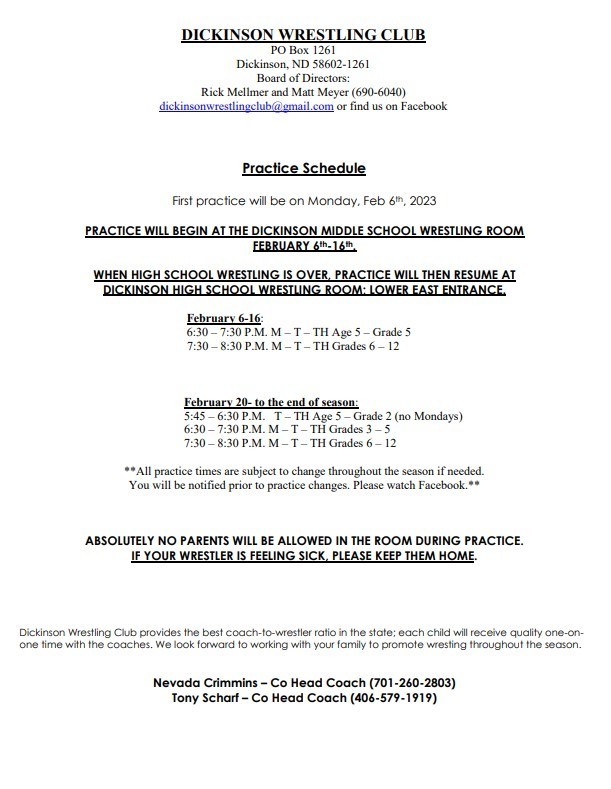 Good morning everyone. The South Heart Elementary Music Concert scheduled for tonight, Monday December 19, is postponed. A rescheduled concert date will be announced after the Holiday break, sometime in January. Thank you, Mr. Dean

Good evening again everyone! Obviously, the wind has heavily impacted road conditions and many areas are experiencing substantial drifting, especially out of town in rural areas.. Therefore, South Heart School is again canceled for tomorrow, Friday December 16. School activities will hopefully resume sometime this weekend when road and weather conditions allow. This will be communicated via the coaching staff after conferring with our Activities Director, Mr. Hoffmann. Thank you, Mr. Dean

Good evening. The South Heart School Board meeting scheduled for tonight, Wednesday December 14, is postponed to next week Wednesday December 21 at 6:00 pm. Also, South Heart School is canceled for tomorrow, Thursday, December 15. This also includes cancellation of all activities for tomorrow. Thank you. Mr. Dean

Good evening. South Heart School is canceled for tomorrow Wednesday, December 14. This also includes cancellation of all school activities for tomorrow. Thank you, Mr. Dean

Hello everyone. According to the North Dakota road map, road conditions are beginning to get worse as the day progresses. Therefore, South Heart School will be releasing today at 2:30 pm with rural buses departing at 2:40. All after school activities are canceled. The elementary music concert scheduled for tonight is rescheduled for Monday, December 19, at 6:00 pm. Decisions regarding school for the rest of the week will be made later. Thank you, Mr. Dean

South Heart School will be in session today as scheduled. Road and weather conditions will be closely monitored throughout the day. Highways and sidewalks are slippery, therefore please use caution when driving and or walking in these areas. Thank you. Mr. Dean